Edited by (142402073) at 11-13-2014 02:00 PM


What is Campaign Clash? Well read on and hopefully you will have an idea at the end of this post.

You will need to buy an Ancient Relic (you can on buy this once you have a level 5Town Hall)




Once you have spent your gold and placed it on your map, you can now enter Campaign Clash.

First lets look at the options you have before starting a Campaign Clash.

You can upgrade your Ancient Relic. This will let you have more Edge Spells. So upgrade asap


Next we have Spell Learning. After finishing a Campaign Clash, you can come here and use your winnings to upgrade your spells.

Healing Currents




Highlight your chose and learn it.

Magmafield (I hope its a spelling mistake on IGGs part, as they have, as of writing Magmafied !)




Highlight and learn it.

Allied Winds




Highlight and learn it.

Melee Combat




Highlight and learn it.

Ranged Combat




Highlight and learn it.

Surprise Attack




Highlight and learn it.

After learning your spells, you can use them as Edge Spells.




Click on the icon of your liking. There is a cost in gold, as you can also see, there is the option to speed up building by spending jewels. After your time has ticked down, your Edge Spell will appear in your Campaign Clash on the bottom right ofthe screen.

Campaign Clash


Now this is where the fun begins. Click on Campaign Clash and you will see 15 empty spaces to your left. On the right you will see all of your heroes. It's your job to pick the best 15 heroes by clicking on them (giving them a big yellow tick)


Once you have your army selected, click the Set Off button.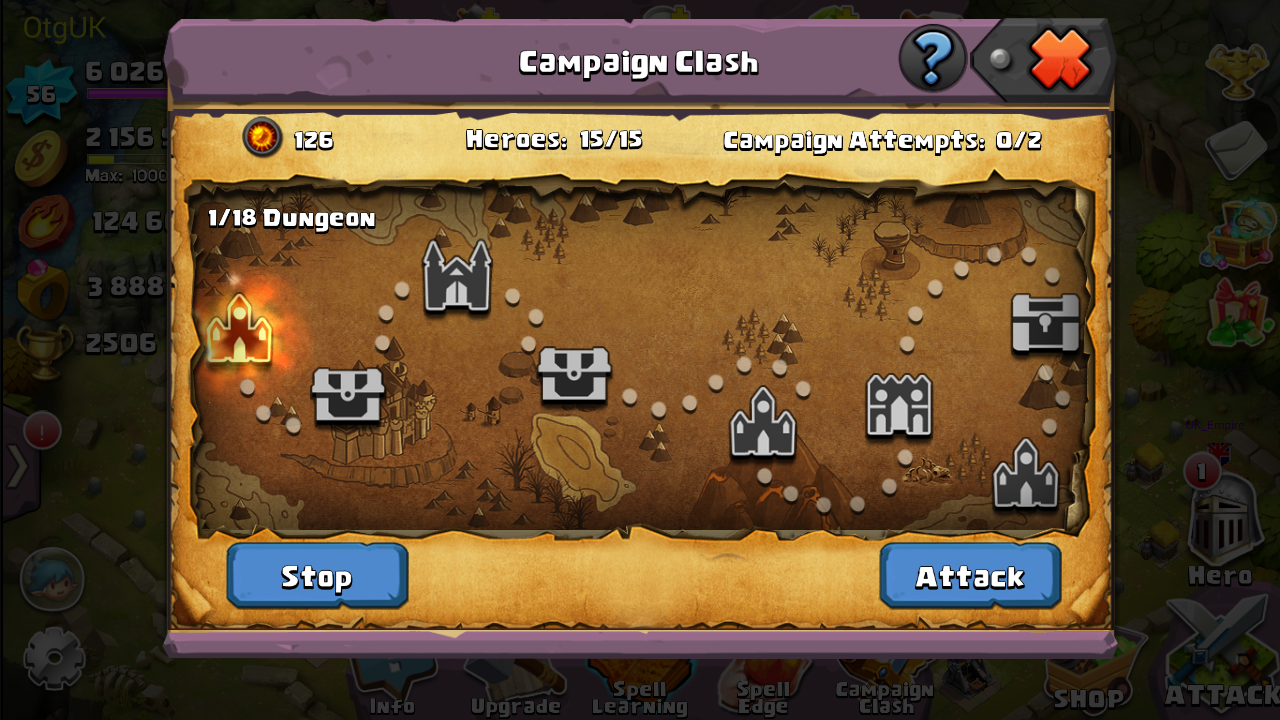 Click the attack button, now you have 3 minutes to select the hero's you want to use and arrange them in your chosen attack formation.






To thebottom right you can see the option to spend some jewels to boost the morale ofyour troops before entering into battle.

Battle Begins




Now the battle has started, you can see your Edge Spell to the left of your heroes.To use them, highlight the one you want to use and touch the part of the battlefield you want to effect.

The Winnings




Your remaining heroes will get a little part of their HP back. When you open your chests you can get almost anything.

Battle On




You have won your first battle.

Last Battle opens third shop




Just the same but more of it...





The skill now is to keep your hero's alive. In the beginning the heroes you face will be of a lower level than you. So maybe select some of your minor hero's now! Use you Edge Spells wisely and don't panic.

Some things to watch out for;

1) A drawn match will mean all your remaining heroes DIE!
2) Again PanGoli is a real killer in this campaign
3) Any hero's with the ability to heal seems to have had it tweaked, so IMO heal is a waste of time coming from my hero's! :'(
4) Do leave the campaign by the red x. Now you can order some more Edge Spells. Make room in your Hero's Hall, upgrade heroes etc.
5) Low level players could really do with playing Campaign Clash BUT town hall level stops them!
6) Left over Rage carries across to your next battle.
7) You will get 5 chests once you get to the chests with the wings on them, then six in the last chests.
8) Place your base infront of your heroes (two rows) for the first couple of rounds, add a round until your nearly losing. Then move your base behind your heroes, back row works for me. Once your base is destroyed, even if every hero you have has health, they will die for the next battle (unless you're lucky and the IGG gods revives them!). Placing your base upfront is valid tactic, you will need to experiment with this tactic. Do this tactic at your own risk.
9) If you down to your last heroes and cant not win, then move your base upfront and give someone else a chacne.
10)To be Updated as I play...
Signature
Join UK_Empire 2700 Trophies 200 jewels to Chariot
Like IGG on Facebook http://www.facebook.com/igg
Follow IGG on Instagram http://instagram.com/iggigotgames/
Like CC on Facebook http://www.facebook.com/CastleClash
Like COL2 on Facebook http://www.facebook.com/ClashofLordsII
Like DH on Facebook http://www.facebook.com/deckheroes