Hi all,

Been playing CoL2 for a couple of months and been reading a bit on this forum and elsewhere for a few days. Currently I'm lvl 61 and up until now I haven't played with any particular strategy. So I figured I'd vent some of my thoughts and see what feedback I can get.

This is my current hero stable (never mind the colours):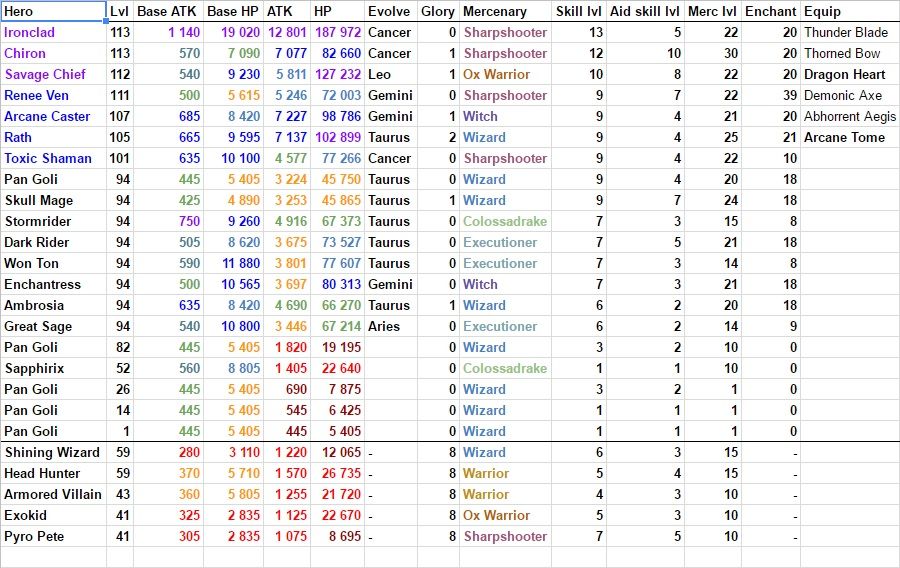 (Yes, I'm a geek. Yes, I know I've been leveling my Mercs too much.)

For the past few weeks I've been playing with a 5 unit team consisting of Ironclad + Chiron + Savage Chief + Arcane Caster + Rath. Usually successful in Arena, moderately so in Lords' League. A pattern's emerging where they get stunned a lot. For El Dorado I've substituted Renee Ven for Arcane Caster.

I've been planning to put Renee Ven and Toxic Shaman on my default team instead of Arcane Caster + Rath. the idea is of course to have a strong Sharpshooter focus, Savage Chief being the one hero without Sharpshooters.

The problem with this strategy is Renee Ven imho. She's there to revive, but she's so squishy she's often the one who dies first.

Other thoughts:

Pan Goli - apparently a very popular hero but I'm just not seeing his greatness. Very squishy. Rarely causes me any trouble when I meet teams (of similar level) with Pan.

Savage Chief - perhaps not the best tank out there, but I got him early and his special behaviour (attacks defenses first) makes him an asset to the team.

Wizard based team - was aiming for this initially, until I discovered that most heroes with Wizards are squishy (except rath and Ambrosia).

"Crowd Control" - I appear to lack that, but not quite sure what it is...

So, any ideas, suggestions, or general reflections? Geek away..